2023/24 MMSF Instrumental Fellowship Programme and Composers' Academy
The Philharmonia Orchestra is pleased to announce its new cohort of MMSF Instrumental Fellows and Composers' Academy Fellows.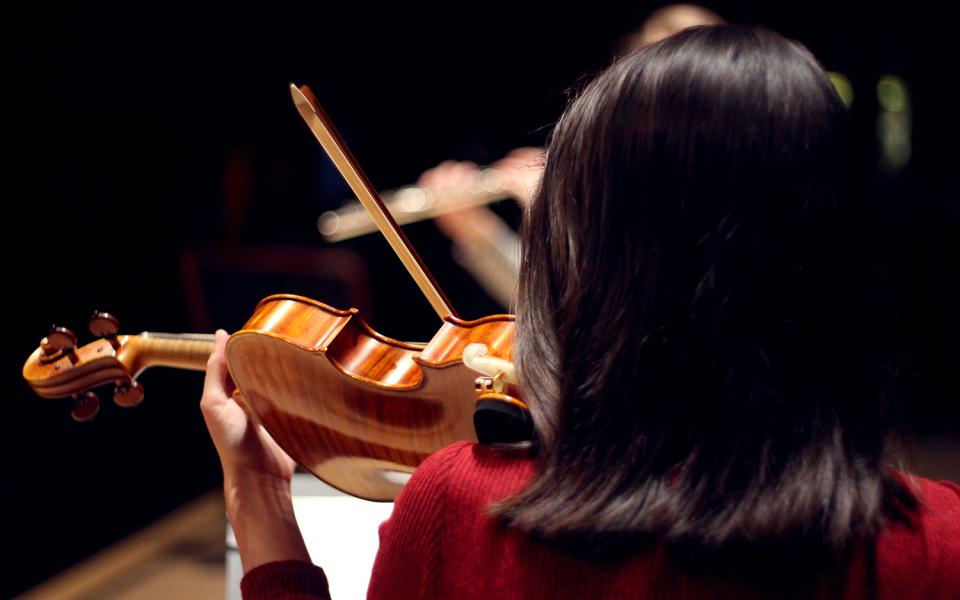 The Philharmonia's Learning & Engagement programme is committed to developing the next generation of young talent in our industry. Each year, we appoint a cohort of Instrumental Fellows and three Composers' Academy Fellows to work alongside the Orchestra.
MMSF Instrumental Fellowship
Since 1968, the Philharmonia's prestigious Instrumental Fellowship Programme has supported talented young instrumentalists at the start of their careers. The fellowship enables them to bridge the gap between their studies and the orchestral profession through a dedicated programme of career coaching, instrumental training and performance experiences.
Each year, following a competitive audition process, Philharmonia musicians appoint Fellows from across orchestral sections. For the duration of the programme (one year for wind, brass and percussion, two years for strings), Fellows receive coaching from Philharmonia musicians, perform solo and chamber recitals in London and across our residency towns, and have the opportunity to perform as part of the Orchestra in our concerts in London, across the UK and on tour.
The Philharmonia's new cohort of Instrumental Fellows for 2023/24 are:
Naomi Warburton – violin
Joana Rodrigues – violin
Carys Barnes – viola
Anna Crawford – cello
Georgia Lloyd – double bass
Isaac Prince – clarinet
Ellie Blamires – flute
Holly Clark – trumpet
James Tavares – tuba
Aisha Palmer – harp
Ellis Thomas – piano
Paddy Davies – percussion
Calum Crosbie – timpani
Find out more about our Instrumental Fellows on the Our Players page.
"I always loved the sound of the Philharmonia when I went to concerts as a student. My lessons with my mentor and opportunities to play with the Orchestra totally transformed my playing and my approach to music. It really feels like I grew up, professionally, in the Philharmonia… It's my home, and I don't think I'd feel quite the same way if it hadn't been for the fellowship."
Owen Nicolaou, double bass Fellow 2018-21 and current member of the Philharmonia
Composers' Academy
The Philharmonia's Composers' Academy is an established programme for exceptional musicians from diverse backgrounds who are looking to forge a composing career.
Each year, the Philharmonia appoints three composers, who are given the opportunity to develop their skills as composers and to create a new work as part of the Orchestra's flagship Music of Today chamber music series.
The programme begins with a series of workshops and masterclasses, before the composers work closely with members o the Philharmonia to create and rehearse their new commissions. The fellowship culminates in the live premiere of the three compositions at the Southbank Centre's Royal Festival Hall and a profesionally produced recording.
The Philharmonia's three Composers' Academy Fellows for 2023/24 are:
Florence Anna Maunders
Mathis Saunier
Yfat Soul Zisso 

Multi-international award-winning composer Florence Anna Maunders studied at the Royal Northern College of Music. In 2018, after a long break, she returned to writing music, and has since enjoyed enormous success in the UK, across Europe, the USA and the rest of the world. Her rapidly growing reputation has led to collaborations with and commissions from leading ensembles and soloists including the City of Birmingham Symphony Orchestra, London Chamber Orchestra, Third Coast Percussion, Villiers Quartet, Strange Trace Opera, The Brass Project, Kyan Quartet, Rarescale & Wantage Band. Alongside other roles, she is composer-in-residence with Fulham Brass Band, and is currently working towards a PhD at Cardiff University. 
Mathis Saunier is a French composer, based in London, UK. He is the artistic director, guitarist, and composer of the noise-pop band Mauvais Sang. He collaborates with international ensembles such as the London Symphony Orchestra, Ligeti Quartet, Exaudi, the Nouvel Ensemble de Neuchâtel (NEC), and the United Strings of Europe. He is a Britten Pears Young Artist 2023/24. Passionate about cinema, his musical universe is a fusion of electronic music (with techno, ambient, and industrial influences) acoustics, and visual lighting, to which he attaches great importance. His music is performed in Europe and Canada.
Ever since commencing on her music studies at the relatively late age of 15, Yfat Soul Zisso has been dedicated to her dream of becoming a composer. Her music, described as "curiously original" (Wales Online) and "daring and moving" (The Daily Telegraph), has been performed by the likes of the City of Birmingham Symphony Orchestra, BBC National Orchestra of Wales, and Birmingham Contemporary Music Group around the world in venues including Symphony Hall, Hoddinott Hall and St John's Smith Square. Her interests include the use of quarter-tones, as well as breathing as a musical idea. In addition to composing, Soul is also a singer, specialising in performing contemporary repertoire.
Find out more about Composers' Academy here.
Partners & supporters
The Philharmonia's Composers' Academy is generously supported by: