All events
Community performance
Hear and Now: Collection
Artists
Tim Steiner – artistic director, composer
Jessie Rodger – filmmaker
Robin O'Neill – conductor
Hear and Now participant groups:
Tibbs Dementia Foundation's Music 4 Memory
Fusion Youth Singing
Leicester Musical Memory Box
De Montfort University
Members of the Philharmonia Orchestra
Join Philharmonia musicians and the young and old participants of our trailblazing intergenerational project Hear and Now, as they come together for a remarkable one-off online performance.
For the last 12 years, Hear and Now has pioneered intergenerational creative work as a way of bringing together and supporting adults with dementia and their carers, and young people from our residencies of Bedford and Leicester.
Together with Philharmonia musicians, they share their memories and stories in creative workshops to collaborate on a unique new filmed musical work celebrating human connection through a collective online experience.
When Covid struck in spring 2020, Hear and Now became one of the UK's first orchestral community projects to successfully relaunch, developing new online workshop models to enable all our participants to continue to sing, laugh and share stories in our warm social setting during this challenging year.
This moving performance film, produced with Orchestras Live, is the result of our workshops, devised by all the participants under the leadership of Artistic Director Tim Steiner and filmmaker Jessie Rodger.
Need to know
Prices & Discounts
Free to watch
Hear and Now is free to watch
Make a donation today to support the Philharmonia's Learning & Engagement work, keep our musicians playing and secure the future of the Orchestra
Running time
The performance lasts around 20 minutes
Is this a live performance?
No, this is a composite performance of home recordings by the participants with musical backing performed by the Philharmonia in St John's Smith Square
Was it produced safely?
Yes. We are working with independent health and safety experts and have robust risk assessment procedures in place drawing from Public Health England advice
Where to watch
It will premiere on the Philharmonia's YouTube channel at 7pm on Thursday 22 April
Before the film premiere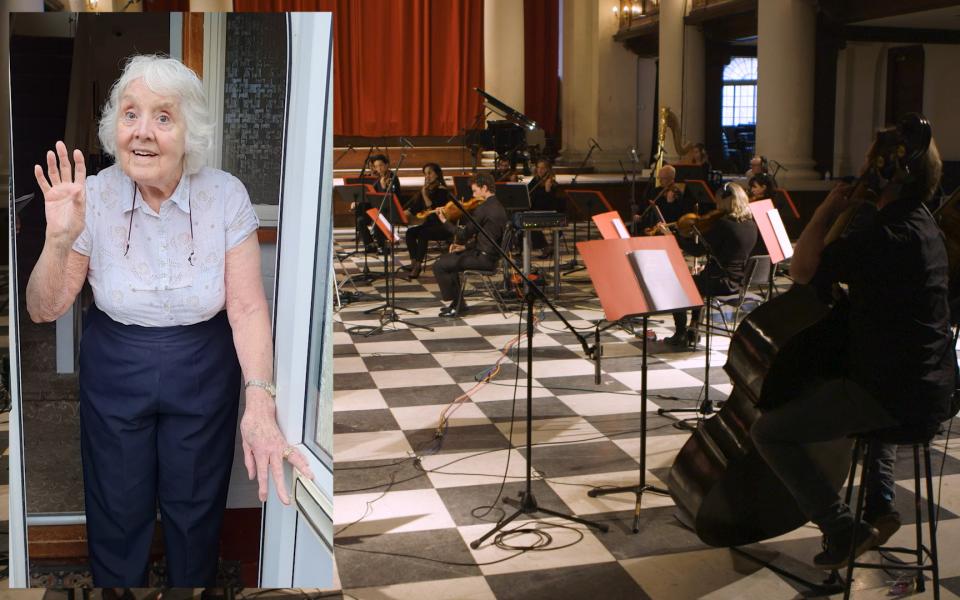 Insights
Free online panel discussion and Q&A between the partners and collaborators of the Philharmonia's Hear and Now intergenerational project, and players and staff from the Orchestra.
Video
Trailer - Hear and Now: Collection
Hear and Now is supported by:
Support the Philharmonia
Donate today to Keep the Philharmonia Playing for our audiences around the world