All events
Concert
Alsop conducts Britten and Shostakovich
Booking for Friends of the Philharmonia opens at 10am on Thursday, 4 November. General booking opens Thursday, 11 November.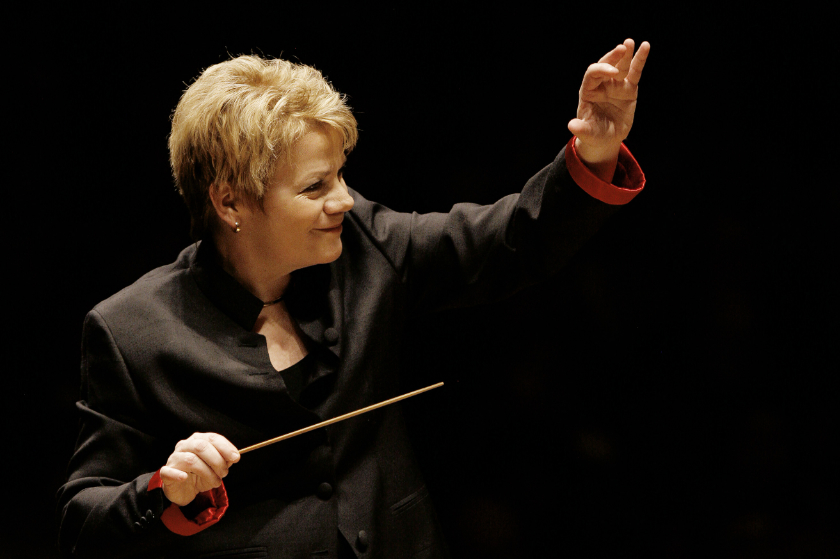 Marin Alsop's programme showcases the versatility of the Philharmonia's musicians.
The swirling, folk-inflected melodies of Jessie Montgomery's Strum contrast with two pieces composed under the shadow of war and oppression.
A committed pacifist, Benjamin Britten moved to the United States in 1939 to escape the conflict in Europe and the ordeal of keeping his sexuality hidden. It was there, in a new environment of creativity, friendship and acceptance, that he composed his Violin Concerto. Arabella Steinbacher brings her expertise in 20th-century repertoire, and her "finely polished technique and… beautifully varied palette of timbres" (The New York Times) to this expressive and emotionally complex work.
The possible hidden meanings within Shostakovich's Fifth Symphony, composed under political pressure from Stalin's regime, have long fascinated listeners. There are generous helpings of spectacle along the road to the symphony's triumphant ending – but is the triumph genuine or ironic? In the midst of the heroism and drama lies the hushed, almost religious contemplation of the third movement, the tender heart of the symphony that moved the audience to tears at its 1937 premiere.
Need to know
Prices & Discounts
£13 – £65
Multi-buy offer available; under-18s and concessions discounts available
Student tickets
£8
Available through Student Pulse.
Running time:
1h 55 minutes, including a 20 minute interval
Recommended age
From 7+
Programme notes
Read the digital programme here. Free printed programmes will be available on the evening too.
Box office
Philharmonia Box Office: 0800 652 6717
Monday to Friday 10am – 5pm
Before the concert
Insights talk with Marin Alsop
Thursday 19 May, 6pm, The Clore Ballroom
Marin Alsop in conversation with Gillian Moore, Head of Music at the Southbank Centre.