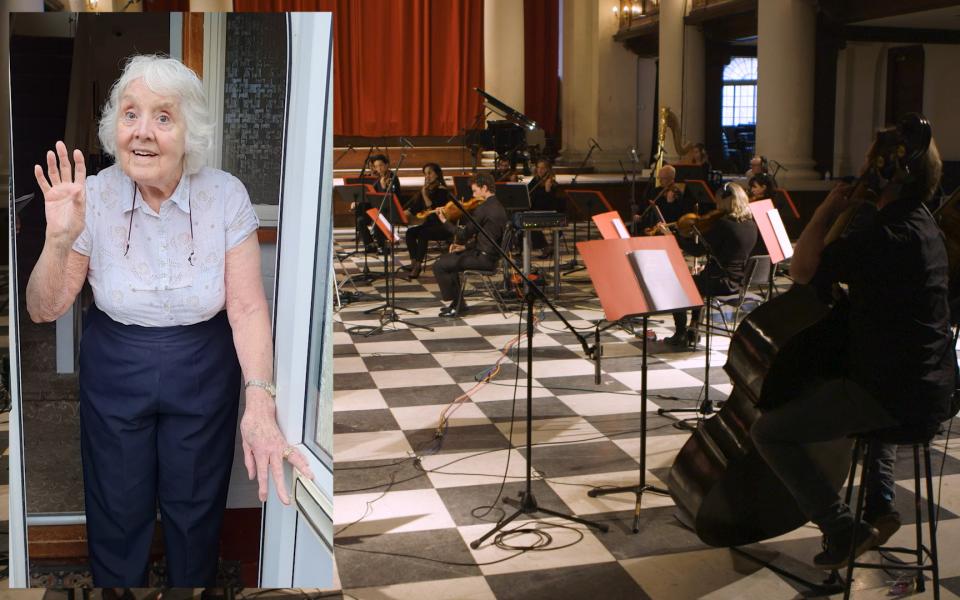 Artists
Johanne Hudson-Lett – host
Tim Steiner – artistic director
Jessie Rodger – filmmaker
Panel to include:
Catherine Bullough – producer (Philharmonia Orchestra)
Stuart Bruce – executive producer (Orchestras Live)
Sarah Russell – Tibbs Dementia Foundation
Kyle Newman – Leicester Musical Memory Box
Gideon Robinson – violin (Philharmonia Orchestra)
Karen Stephenson – cello (Philharmonia Orchestra
*Ticketed online booking for this event has now closed – however, we can still provide access to the event through our box office. Please email orchestra@philharmonia.co.uk and we will send you the Zoom link.*
Venture behind the scenes in this unique chance to uncover the artistic vision and innovative approaches guiding the Philharmonia and its team of partners and collaborators on their pioneering intergenerational project Hear and Now.
Ahead of the public online premiere of the project's remarkable new filmed artistic work, join host Johanne Hudson-Lett alongside Artistic Director Tim Steiner and filmmaker Jessie Rodger, in this dynamic online panel event featuring the entire creative team behind Hear and Now.
Sharing the story of the trailblazing project's 12-year history as one of the UK's first creative intergenerational initiatives, the panel will feature perspectives from key figures leading the groups involved with Hear and Now, as well as the producing team from the Philharmonia and Orchestras Live.
And hear from participants from the groups and the participating Philharmonia musicians in their own words as we tell the moving story of coming together to collaborate on one of the largest-scale creative community projects to take place during the pandemic in the UK – giving everyone involved the chance to sing, laugh, and combat isolation in this challenging year.
Our free event will feature discussion panels and an audience Q&A, followed by the global premiere of the new filmed artistic work on YouTube at 7pm.
Need to know
Prices & Discounts
Free
How do I access the event
You will receive an email with the link and password to the event on Zoom on the morning of the performance
Running time
50 minutes
Details of the main film premiere
The premiere of Hear and Now: Collection will take place on YouTube at 7pm BST, after the panel discussion, and will be free to watch worldwide – full details
Box office
Philharmonia Box Office: 0800 652 6717
Online safety
Please follow the Philharmonia's safeguarding policy and online code of conduct here
After the discussion
Video
Trailer: Hear and Now Collection
Hear and Now is supported by: