Watch with us: Salonen conducts Holst's The Planets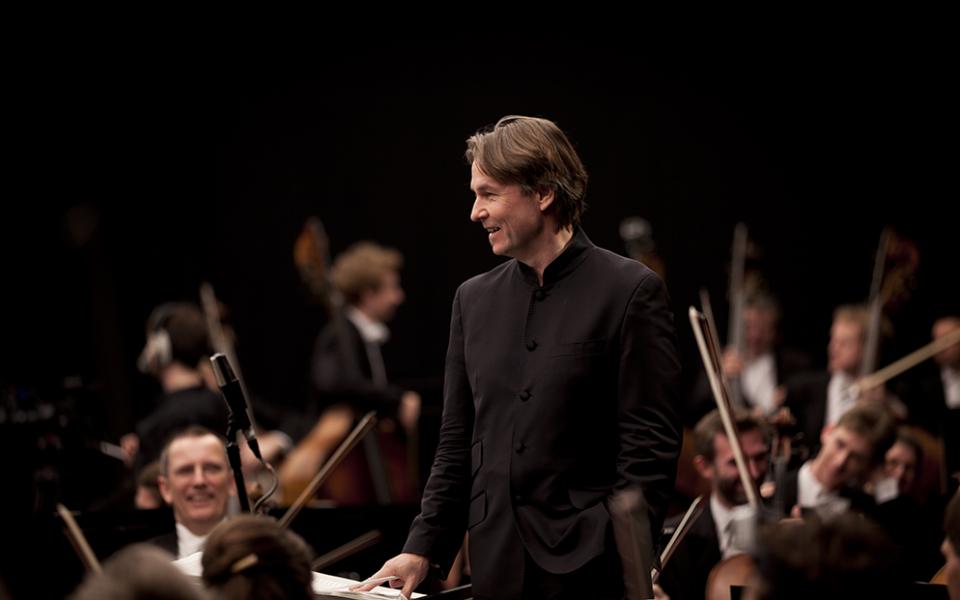 What:
Watch Party: Holst's The Planets
When:
Friday 19 June 2020, 7pm
Where:
Our YouTube channel
Who:
Esa-Pekka Salonen – conductor
Ladies of Philharmonia Voices – choir
What else:
Filmed at Watford Colosseum in 2012
The Planets is a hugely enjoyable musical journey through the solar system. Along the way composer Gustav Holst gives us a masterclass in orchestral writing. The merciless rhythm of 'Mars' gives way to the serenity of 'Venus', ebullient brass heralds the expansive song of 'Jupiter', and ethereal voices float upwards as 'Neptune' fades into darkness.
In 2012 Watford Colosseum was transformed into a huge studio where we filmed The Planets, with our Principal Conductor Esa-Pekka Salonen. Each section, and in many cases each individual player, was captured on separate cameras and microphones, to create a multi-room installation introducing the instruments of the orchestra. In Universe of Sound, a partnership with the Science Museum, and more recently in The Virtual Orchestra, around half a million people on three continents have had the chance to experience Holst's masterpiece in larger-than-life detail.
Join us for the YouTube premiere of our film of The Planets, with an extra final movement composed specially for our installation by Joby Talbot, on Friday 19 June at 7pm UK time. Members of the Philharmonia who took part in the original recording will be online to share their memories and answer your questions in the live chat.
We want to thank all of our supporters, Friends, audience members and wider community at this challenging time. We are doing everything possible to be performing live again soon.
Our concert streams are free and for everyone. We have always been a pioneer in the use of technology to reach new and wider audiences and it has never been more important to be able to connect both locally and globally. These digital performances also Keep the Philharmonia Playing and ensure our world-class musicians are able to do what they do best – play. While we can only perform digitally, making a donation today will support this work, keep our musicians playing and secure the future of the Orchestra.
Discover more
Video
The Making of Universe of Sound
Video
Listening Guide: Mars, the Bringer of War
Video
Listening Guide: Venus, the Bringer of Peace
Video
Listening Guide: Mercury, the Winged Messenger
Video
Listening Guide: Jupiter, the Bringer of Jollity
Video
Listening Guide: Saturn, the Bringer of Old Age
Video
Listening Guide: Uranus, the Magician
Video
Listening Guide: Neptune, the Mystic