Film, web & audio
Behind every piece of music and every musician lies a story. The Philharmonia Orchestra leads the field in telling those stories online, producing high-quality content praised for its distinctiveness, depth and accessibility.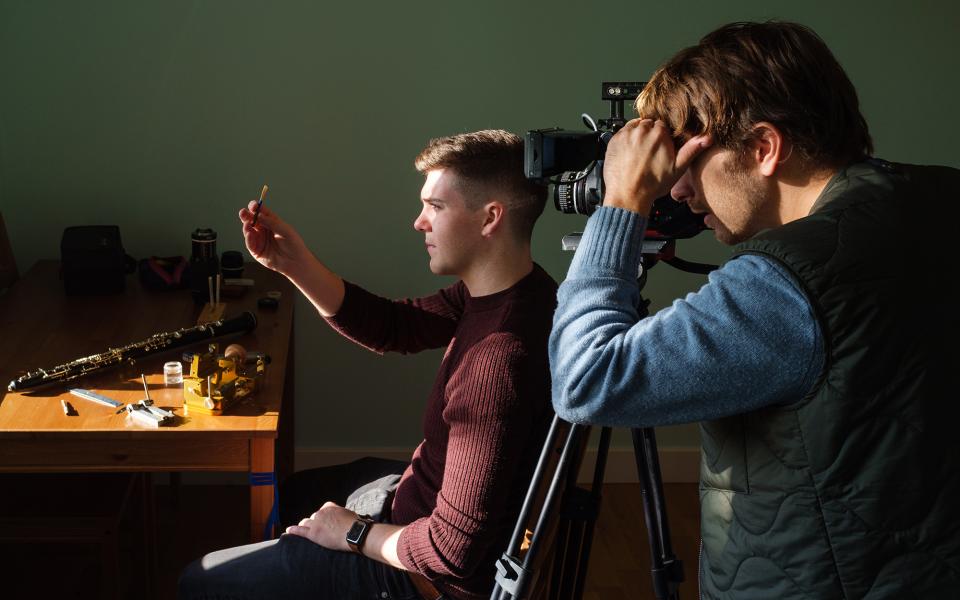 Film
Our thriving YouTube channel features dozens of releases each year, created by our skilled in-house team. Our focus on storytelling opens up the world of orchestral music to current and future audiences. We film on location to uncover the contexts in which music is created; performers, conductors and composers share their insights into the music they love; and our players present in-depth guides to the instruments of the orchestra.
Our channel gets over 4 million views a year and fosters an active community of music enthusiasts, now numbering almost 100,000 subscribers.
You can view all of our films on our YouTube channel
Suggested playlists:
Video
Mahler's Third Symphony
Samples
For those who love making their own music, we've created a free sound sample library with real instrument sounds recorded by Philharmonia musicians.
Here you will find thousands of free, downloadable sound samples specially recorded by Philharmonia Orchestra players. These samples are suitable for creating any kind of music, no matter what style.
We would love to find out what you have created with these samples, so please get in touch and share your projects with us.
The Sample Library can be found here.
These samples are free for anyone to download. Donations help us to keep these resources free and therefore accessible to as many users as possible. The Philharmonia is a registered charity, and we would be grateful for your support.
Please consider making a donation to the Philharmonia Orchestra
£25 could send 10 schoolchildren to one of our fun and engaging Orchestra Unwrapped concerts.
£45 could buy a heavy duty music stand to take on tour around the UK and abroad.
£100 could tune a piano in preparation for one of the world's greatest pianists to perform with the Orchestra.
Apps & microsites
Our apps and microsites offer rich multimedia experiences for audiences and music lovers who want to take a deeper dive into the Philharmonia.
The Orchestra app
The Orchestra app for iPhone and iPad is an introduction to orchestral music, with our Principal Conductor Esa-Pekka Salonen. Highlights include multi-camera, multi-track performances of eight pieces with synchronised score; a synchronised BeatMap highlighting every note played on a graphical representation of the orchestra; and a full guide to the instruments.
Microsites
The Philharmonia has produced media-rich microsites for some of our flagship concert series. From interactive maps and timelines, to collections of essays, photographs and specially commissioned films, these sites help place the music within a wider cultural and historical context.
Visit our Lovie Award-winning site on Stravinsky, created in 2016 for Esa-Pekka Salonen's series Stravinsky: Myths & Rituals. Stravinsky's life unfurls as an interactive timeline of films, animated maps, archive photography, world events and anecdotes.
Podcasts
Our audio podcasts feature a variety of different speakers and performances. Many of our pre-concert talks with conductors, soloists and cultural experts are available as podcasts.
All episodes are available on SoundCloud, iTunes and Spotify  – from an interview with Avengers: Age of Ultron composer Brian Tyler and a conversation with our Principal Conductor Designate Santtu-Matias Rouvali, to coverage of Henley Festival featuring singers Gregory Porter and Laura Mvula.
Keep up to date
Sign up for email updates and be the first to receive stories, films and concert announcements