Family concerts
Our family concerts are presented in Bedford, Canterbury, Leicester and London. These concerts give families in our residency communities access to a relaxed concert format. They are a key part of the legacy of our major audience development projects (iOrchestra and The Virtual Orchestra).
About the project
Our family concerts are presented by professional musicians who are specialists in family and community participatory music-making. The concerts are a fantastic hour-long introduction to the world and repertoire of the symphony orchestra. Programmes are varied and include moments of family-friendly audience participation. There are opportunities to meet our musicians after the concert.
In advance of each family concert, we offer a number of free and bespoke workshops for community and family groups in our residencies of Leicester, Bedford and Canterbury. Led by the concert's presenter and musicians from the Orchestra, each workshop delves deeper into the concert programme with a series of fun creative music-making activities tailored to the needs of the group. Participants also get the chance to compose the lyrics for the concert's audience participation piece before joining in and singing live in concert with the full orchestra.
We offer these workshops in conjunction with our specialist community partners, focusing particularly on groups who traditionally face barriers to accessing arts and cultural provision, including children and adults with additional physical and learning needs, people in prison, and community centres in low-income areas.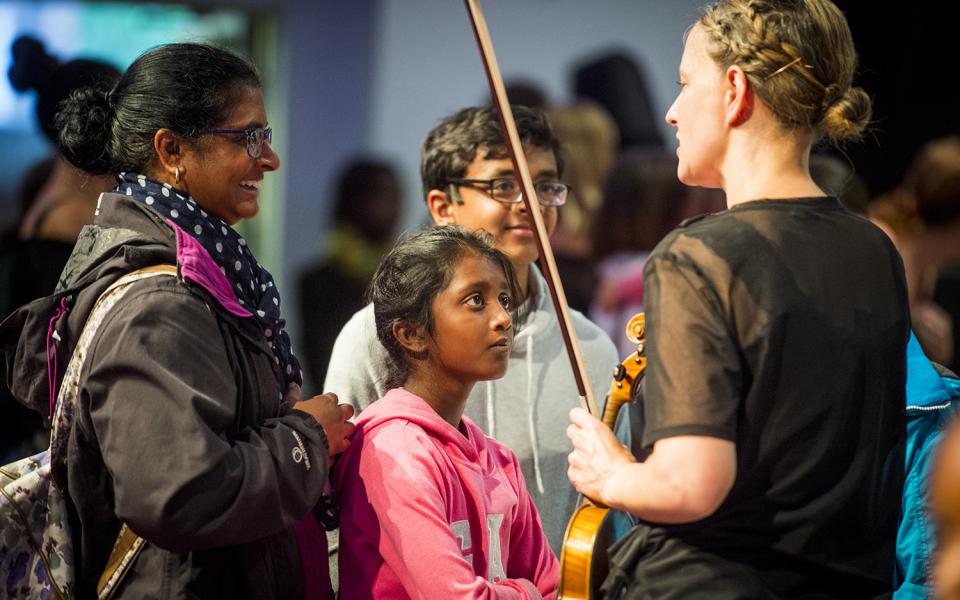 Next performances
We present family concerts in Bedford, Canterbury, Leicester and London.
Gaspard the Fox
As an ongoing commitment to creating inspiring experiences for our family audiences, the Philharmonia is the lead commissioner for a brand new piece of music for families from renowned composer Jonathan Dove.
Gaspard's Foxtrot, based on a book by writer and broadcaster Zeb Soanes and illustrator James Mayhew, is an orchestral tale for children in the tradition of Peter and the Wolf. In the latest instalment of the Gaspard the Fox stories, Gaspard accidentally takes the number 38 bus from Islington to Hyde Park, and finds himself at a classical concert.
Gaspard's Foxtrot premieres at the Three Choirs Festival on 27 July 2020, performed by the Philharmonia Orchestra with Zeb Soanes narrating and James Mayhew creating live illustrations. It then goes on to tour across the UK.
The book is published by Graffeg in June 2020.
Gaspard's Foxtrot was commissioned by the Philharmonia Orchestra, Three Choirs Festival Association, Docklands Sinfonia, Royal Liverpool Philharmonic and Royal Scottish National Orchestra.